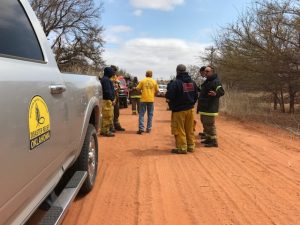 Oklahoma Baptist Disaster Relief (DR) trainee volunteers have been active in the month of April.
According to Don Williams, state DR director for the Baptist General Convention of Oklahoma, volunteers have served in a number of ways.
"Our feeding unit from Elk City, First began feeding breakfast to firefighters this morning (April 13). Danny Ringer worked with local SBC churches to provide dinner last night. We will continue efforts as long as needed," he said.
According to Williams, the Woodward county fire feeding effort is being led by pastor Todd White of Ft. Supply Baptist Church, a DR volunteer, and started feeding April 12. Additional feeding unit support is planned.
Williams said DR officials are actively monitoring weather in Eastern Oklahoma and other parts of the state.
During the teacher walkout, the Oklahoma Baptist DR Provided a feeding unit at the Capitol for Oklahoma Highway Patrol, and that work is concluding this week, he said.
"We are honored to serve people in need, and we do so in the name of Jesus Christ," he added.
For more about BGCO's DR, or to make a tax deductible donation, visit www.okdisasterhelp.org.