OKLAHOMA CITY, Okla.— Oklahoma Baptist Disaster Relief (DR) is in Eastern, Central and Western Oklahoma this week assisting those affected by downed trees and flooding from severe weather across the state last weekend and wildfires earlier in 2017.
"Some of these large, old trees that our trained chainsaw crews are cutting down would be around $3,000 to be removed. So we want to go in and help those people in need in that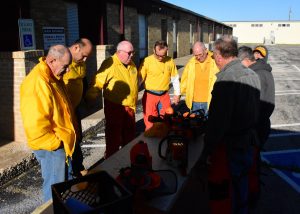 way," said Sam Porter, BGCO Disaster Relief Director.
In Kinta, in the Eastern part of the state, floodwaters reportedly were contaminated with oil due to an overturned container, flooding 26 homes. Oklahoma Baptist DR will set up a volunteer station at First Baptist Church of Tahlequah and is sending flood relief teams to houses affected from there.
"We have begun to start evaluating the Illinois River area by sending in assessors to figure out what families need, and from there we will send in teams based on the needs expressed by our crews," added Porter.
BGCO's DR is also serving in Beaver County, assisting ranchers that lost thousands of heads of cattle and millions of acres of farm land in wildfires that swept the Panhandle earlier this year.
For more information on Oklahoma Baptist Disaster Relief or to make a tax-deductible donation to the ministry, visit https://www.okdisasterhelp.org/.