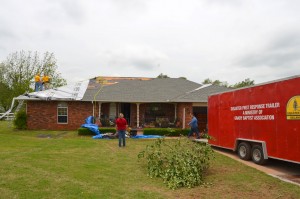 OKLAHOMA CITY—Oklahoma Baptist disaster relief officials are continuing to receive requests for assistance related to the May 6 tornadoes in Central Oklahoma.
According to Baptist General Convention of Oklahoma (BGCO) disaster relief official Dave Karr, Oklahoma volunteers also had prepared 6,950 hot meals served to those affected by the storms as of May 10.
Also as of May 10, volunteers had completed 22 chain saw jobs (removing downed trees/limbs) and 10 mud out jobs (Cleaned out mud and ruined property), with 148 job requests pending.
For more information about the BGCO disaster relief operation or to make a tax-deductible donation, visit www.okdisasterhelp.org.